I have known for a while that Micro$oft Vista OS was dodgy. Its old news in fact. But that doesn't stop people from using Vista because they still need to use a computer and the computer needs an operating system. Microsoft has a monopoly on the operating system sold with every new laptop computer. If it isnt Vista, is likely because its a Mac. So as a result the general public is stuck with this total POS until Windows 7 comes out. At least the rumours have it that 7 will be better.
I had started using Linux desktop long ago. I have used Suse, Fedora, and now I am on Ubuntu. Fixing computers is never as fun as using them. I had plenty of heartbreak with windows. So I got on the Linux learning curve and in general now I am a competent Linux Desktop user. Years have gone by and I have forgotten all my Windows maintenance chops. I try to help friends out when they ask me but I am close to useless.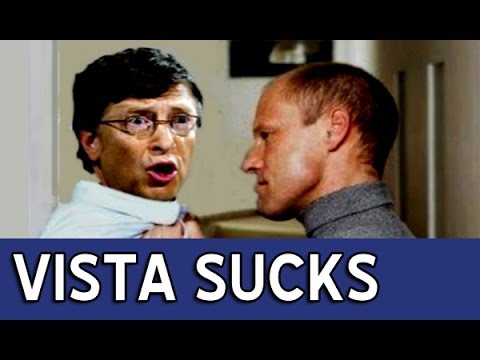 Since I have not really been a Vista user, I don't know how to help you. Call me when you have a problem when with your web site that runs on the LAMP stack (that is Linux, Apache, MySQL, PHP). Windows XP was a different story. Anyone could hack the registry if they were brave. But with Vista, you need to work with it the right way.
So the following are some tips to help you avoid a computer meltdown, hopefully before it happens:
You have been thrust into a situation that requires you to know more than you ever wanted to about your computer and it is unfortunate. Don't be pissed off, be serene, most issues can be sorted out
Attempts at intrusions into everyone's computers are happening constantly. Its nothing personal
Get a book on Vista and read it
Get the maximum possible amount of RAM installed in your computer- Vista needs it. In fact, assume now all hardware you now own is obsolete. It was already obsolete when you bought it
Run system updates regularly. If you cant run system updates, then you have a problem
Browse with Mozilla Firefox, its much more secure
Consider using an external hard drive to dump all your valued data on to, in order to separate your property from the computer
Look for computer support before you get into a problem. Find a service that fixes Vista machines, or look under  yourtown.Craigslist.com/cps for a local desktop expert. There is a cottage industry everywhere now of skilled people who earn a living charging you a hundred bux or so to de-hackify your Vista. If they are good, little gems of wisdom will drop out of their mouth as they ramble on, and you will remember them because you are paying for their time
Whether you or somebody else is fixing a computer or doing maintenance, it takes time to do it right. The alternative will cost more money and more time
When something goes wrong, acts weird on your computer, such as deathly slow downloads, being unable to go to web pages like normal people do, Windows Defender stops working and you get some error code like '0×80240022', don't wait, you probably have a registry corruption. It's the time to act. Ignoring this problem will only make it worse
Debugging Vista is more involved than just a Google keyword search
Dont be cheap. Vista is a problem waiting to happen, so get ready for it
If you cant do all what I suggest because you have more brains than money, start learning Linux
If you cant do all what I suggest because you have more money than brains, get a Mac
Obviously, don't run pirated software. If there is something you really need, or don't want to pay, look for a free open source application. There is a large universe of free software that works better than the stuff you pay for
Take some effort now to be a better computer user, and forearm yourself with an understanding that Vista has to be set up and maintained properly. It doesn't matter who you are, Vista will work poorly for you if you dont make an effort to get it set up properly. But if you make an effort, the result doesn't have to be your downfall: